Lift King "Side-By-Side" Parker 4.0T / 4.5T Portable 4 Post Hoist
LIFTS 2 VEHICLES IN TANDEM &
PARKS TWO VEHICLES BELOW
Features our 3RD Generation "Wrap-Around" carriage and Full Box Section posts
Overview
Lift King SXS10000 Side-By-Side Parking Hoist instantly "quadruples" you garage space!
Still a 4.5T portable hoist, it's great when you just need that extra car up there for storage, or use as a Showroom Piece for your prestige cars.
The Side-By-Side Parking Hoist still only use 4 posts, but incorporates 4 platforms, so you get twice the parking space but not twice the number of posts, so it's "compact"!
And you have the option of completely filling in the gap between the platforms with our light weight alloy inserts to give a large solid surface storage area for any item you wish to get off the floor (extra $2300.00).
This auto hoist come standard  with the  jacking trays that can be used to lift your vehicles wheels off the platforms when used with a bottle jack or car jack, however, if you want the "real thing" then go for our 2.5T rolling manual jacking beam or pneumatic jacking beam as an optional extra.
Features
– International CE Certified
– castor kits for portability
– 2 x 2.0T rolling jacking trays/oil catch trays/tool trays
– 6 x plastic drip trays (3 per side)
– Heavier gauge steel & thicker cables than standard 4-post hoists
– Single heavy duty hydraulic ram safely concealed under the platform
– Built in anti-burst valve for added safety
– Heavy duty safety locks in each post every 150mm
– Front /rear removable stop plates allows drive on ramps to be inserted either end of hoist for drive on/drive off convenience
– Exclusive rolling cable block system ensures lifting cable remain in line, and cable retention lugs ensures cables remain secured to their rollers
– Box section reinforced platforms ensures no deformation of platforms under load
– Single point manual safety lock system – simple and reliable
– Movable slave platforms caters for various width vehicles, boats, caravans, you name it!
– 240v single-phase or 415V three-phase option
– Checker plate finish and smart looking powder coated two-tone Gunmetal Grey posts with black platforms.
– Warranty: 5-Year Structural & 1-Year Parts.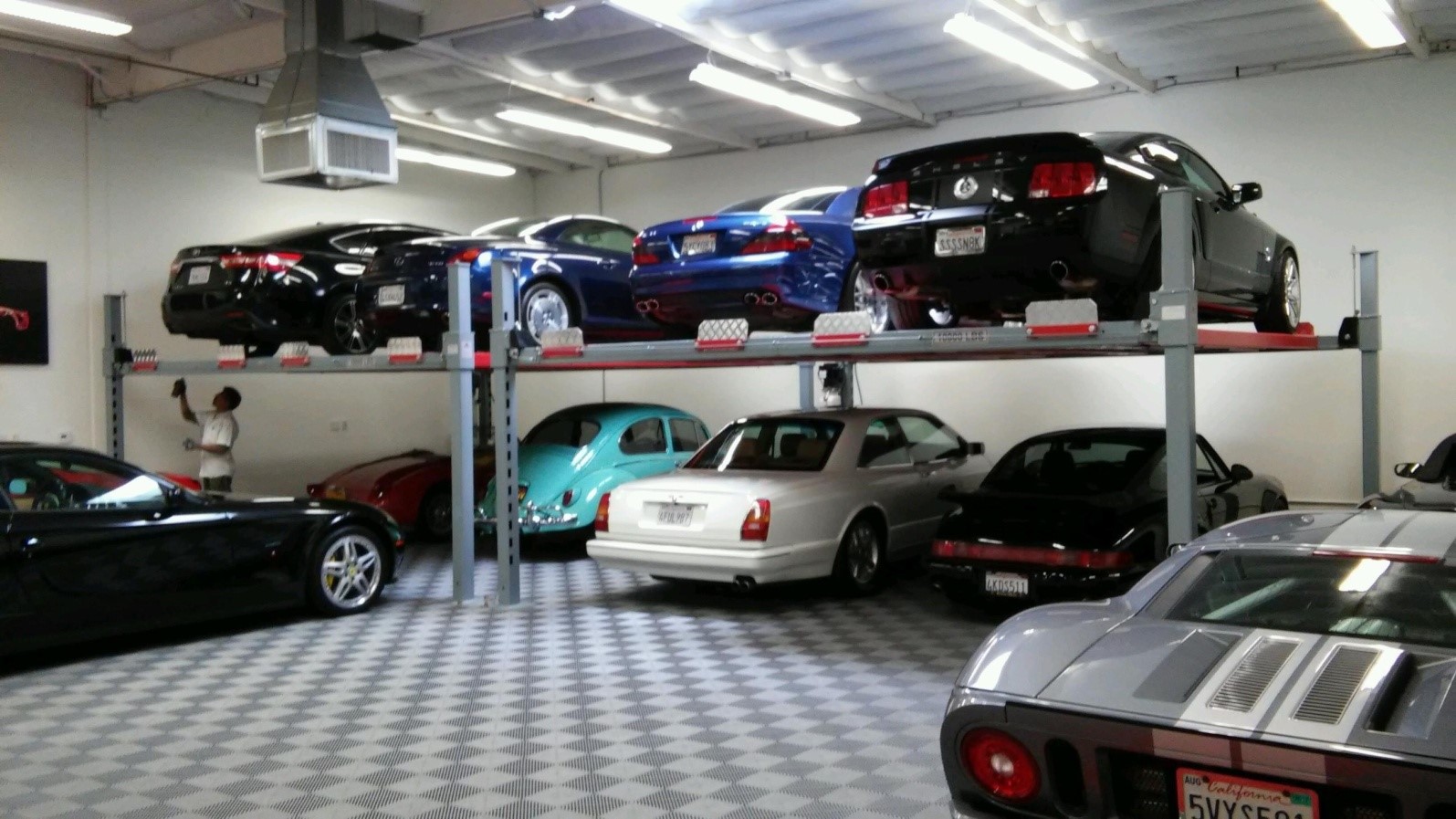 Specifications
Lifting capacity: 4.5T
Maximum lift height under platforms / max ground clearance: 2098mm
Maximum clearance when sitting on top lock: 2082mm
Platform length: 4865mm
Post height: 2614mm
Width between posts (installation width incl.posts foot flanges): 5287mm
Outside post to post width: 5162mm
Hoist length (installation length) excluding drive on ramps: 4987mm
Hoist length with drive on ramps: 5880mm
Width between outside platform to outside platform (adjustable): 4267mm
Platform Width: 475mm
Drive through width clearance below platform: 4899mm
Drive through width clearance above platform: 4799mm
Lifting Time: 50 seconds