Lift King Portable MR-06 Mid Rise Scissor Lift
Overview
The Lift King MR-06 is a freestanding 2800kg capacity portable mid-rise scissor lift. This unit is the perfect lift for body shops and wheel service specialists that need extra lifting height. This portable lift easily raises a 2.8T car or light truck to a comfortable working height of up to 1090mm. The unique platform design of the Lift King MR-06 allows access to some areas on the underside of the car not easily accessible with other portable mid-rise lifts. The dual power cylinders and the unique double safety lock bar system, with 4 different lock positions, make the Lift King MR-06 one of the most popular mid-rise lifts sold locally and overseas.
Our Lift King MR-06 has been thoroughly tested to meet Industry standards. The Lift King MR-06 mid-rise lift is powered by a 240-volt power unit that is mounted on a portable cart. The power unit can be positioned to allow for maximum efficiency. This power unit cart is also used to move the Lift King MR-06 on a smooth level surface. This lift can easily be rolled from an inside work bay to an outside concrete apron work area in just a few minutes.
The Lift King MR-06 is a complete mid-rise lift that includes a set of elevated round pad adapters, four 40mm tall peg adapters, four 65mm tall peg adapters, and one set of low-rise sliding car adapters. The arms can be adjusted to an almost infinite amount of positions to accommodate unique lifting points found on certain vehicles. The best way to position any vehicle on a scissor lift (with horizontal cylinders) is to allow some space (50mm -150mm) between the lifting surface of the lift and vehicle's lifting points. The large "foot print" of the Lift King MR-06 creates a steady platform for the raised vehicle.
Quick set up time and an extended raised height makes the Lift King EM-06 a real winner for those shops that demand speed and quality in their lifting equipment.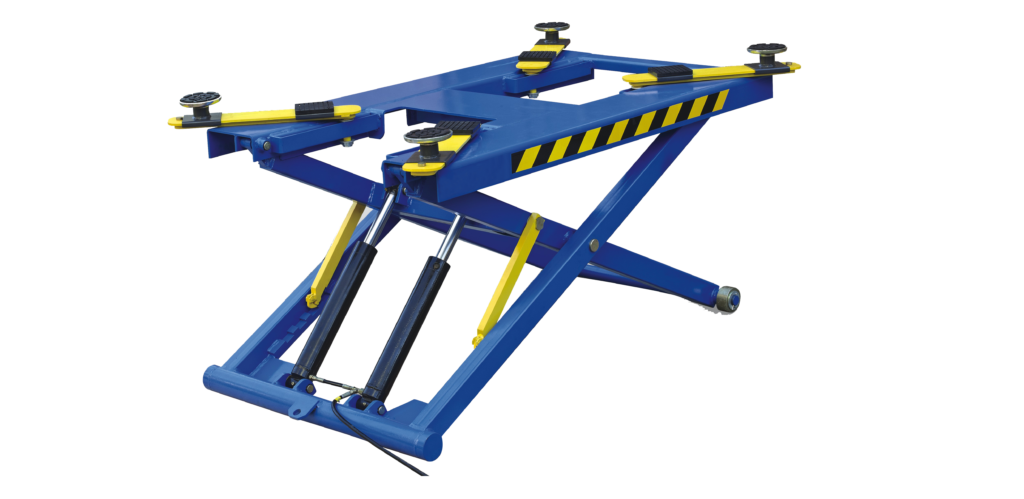 Features
– International CE Certified
– Castor Kit for portability (dyno bolts supplied for fixed option)
– 3 x plastic drip trays
– Sliding 1.0T tool tray/oil drip tray/jacking tray – can be used for wheel removal with a bottle jack or car jack
– Single heavy duty hydraulic ram safely concealed under the platform
– Front/rear removable stop plates allows drive on ramps to be inserted either end of hoist for drive on/drive off convenience
– Built in anti-burst valve for safety
– Exclusive rolling cable block system ensures lifting cable remain in line, and cable retention lugs ensures cables remain secured to their rollers
– Box section reinforced platforms ensures no deformation of platforms under load
– Safety locks in each post with secondary anti-cable break lock for added security
– Single point manual safety lock system – simple and reliable – locks every 150mm
– 240v single-phase or 415V three-phase option
– Checker plate finish and smart looking powder coated two-tone Gunmetal Grey posts with black platforms.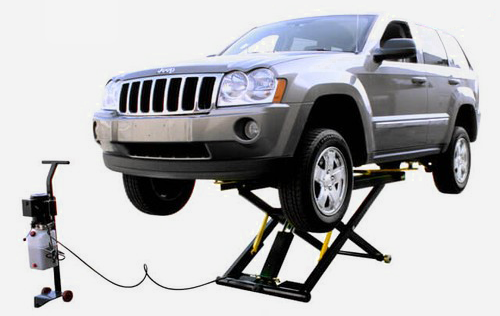 Features
– Commercial grade
– Powder coated finish
– 4 locking heights
– 8 peg adapters included
– Dual mechanical automatic safety locks release – no need for air
– Portable design – it's easy to move the unit with the power unit stand
– Two heavy duty quality hydraulic cylinders
– High 1090mm maximum lift
– 5 -year structural warranty & 1-year parts warranty – domestic
– 2-year structural warranty & 1-year parts warranty – commercial
Specifications
– Lifting capacity: 2.8T
– Lifting height: 1090mm
– Minimum height: 125mm
– Lifting time: 32 seconds
– Platform width/Swing width: 1000mm/1604mm
– Overall length: 1885mm
– Gross weight: 360kg
– Packing dimensions: 2050 x 1000x 200mm