Lift King LK-SPP25 Single Post Parking Hoist
Overview
The Lift King LK-SPP25 single post hoist is a small footprint space saving design that combines the versatility of a parking hoist with central free access for vehicle maintenance.
It's durable heavy-duty construction and 2500kg lift capacity can handle passenger cars and 4WD's, with adjustability in the platform widths and drive on ramps to accommodate most wheel bases.
And it's fully electric with an electro-magnetic safety lock release system, so it's safe and user friendly for a one-hand push button control for easy lifting and lowering.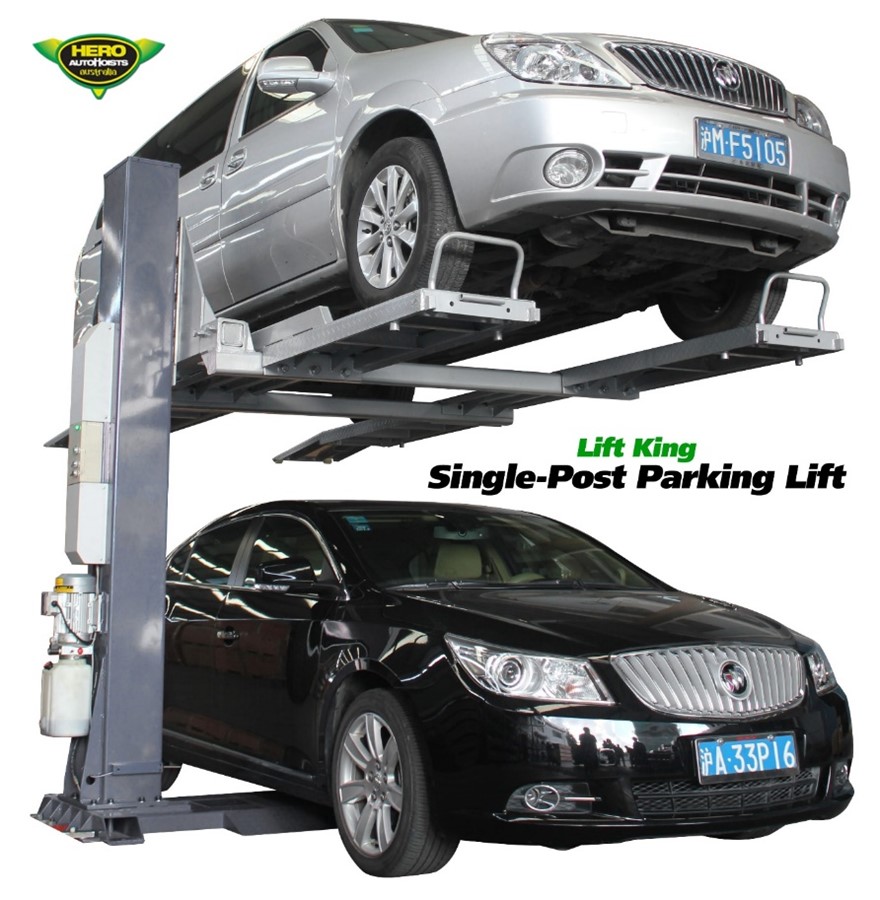 Features
Single post design allows for clear floor space
Central free access for car maintenance as well as storage of cars
Reliable and smooth electric/hydraulic power system
Easy electro/magnetic lock release system
One hand push button for simple lifting
Commercial grade hydraulic cylinder with heavy duty lift chain
Low post height allows for low ceiling residential installations
Low profile ramp deck allows for lowered cars
Wide deck platform accommodates various cars
Adjustable width platforms and approach ramps
Optional removable plastic drip trays to protect the vehicle parked below
International CE and German TUV Certified
Warranty: 10 Year Structural & 1 Year Parts
Specifications
Lifting Capacity / 2500kg
Height Overall / 2889mm
Width Overall / 2790mm
Length Overall / 4719mm
Minimum Height / 80mm
Maximum Lift Height / 1955mm
Service gap inside platforms / 1000mm – 1080mm
Platform Width / 480mm
Maximum width distance between Platforms (exterior) / 2040mm
Lifting time (loaded) 40 sec
Net Weight / 1050kg
Transport pack size / 4060 x 1000 x 580mm