2-Post Car Hoist - Lift King 4.5T Clear Floor Auto Hoist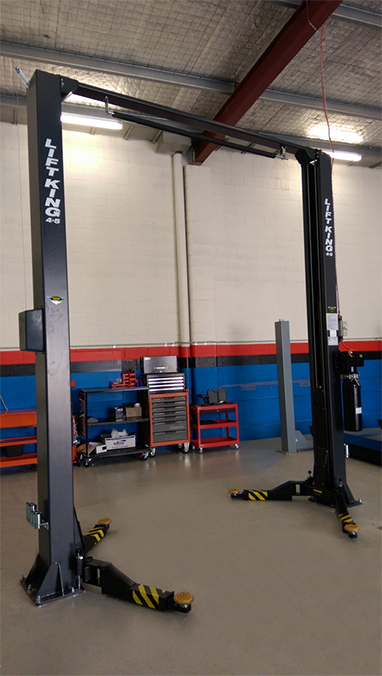 Overview
The time proven 'working man's' hoist, clear floor car lifts give open easy access and serviceability, with hundreds of these out there in both the commercial and domestic market, it's our most popular hoist.
You require a 4.0m minimum roof height to install this hoist and minimum 100mm solid reinforced concrete base.
With our updated clear floor car lift hoist we've used longer than the standard industry rams and together with a taller post we can now achieve a clearance of 3795mm under the safety limit bar and a top locking position of 1980mm (2190mm at max height off top lock) which makes this hoist perfectly suitable for the larger 4WD vehicles and a pleasure to work with for those taller operators.
Features

– Australian Certified for commercial workshops. ADR No: Q29143
– Symmetric posts, 3-stage asymmetric arms – allows easier exit from the vehicle
– Manual single point safety release locking system – simple but reliable
– Heavy Duty thicker gauge plunger style hydraulic ram in each post, less prone to oil seal leaks, and NO CHAINS!
– 75mm & 100mm 4WD extensions included, dyno bolts included for fixing into the ground
– 240V single phase or 415V three-phase motor options
– Low 100mm minimum pad height
– High 1980mm top locking position (2190mm above top lock)
– Height limit micro safety switch and height limit safety bar included
– Warranty: *LIFETIME Structural, 1-Year Parts. 3 -Year extended parts warranty available for $195.00 (*domestic use). 5-Year Structural & 1-Year Parts (Commercial use)
Specifications
– Lifting Capacity: 4.5TON
– Lifting Time: 45 SEC
– Post Height/Installation Height: 3990MM
– Total Hoist Height with Rams fully extended through top of posts: 4200MM
– Hoist Width to outside of posts foot flanges: 3420MM
– Inside of posts width/clearance: 2800MM
– Drive Through Clearance: 2500MM
– Height Clearance Under Top Safety Limit Bar: 3795MM
– Lifting Pad Height at Top Safety Lock (pad screwed down): 1980mm
– Lifting Pad Height at Top safety Lock (pad screwed all the way up): 2060mm
– Lifting Pad Height when arms extended to maximum above top safety lock: 2180mm
– Maximum Head Clearance Height Under the Arms: 2030mm
– Minimum Pad Height at floor level: 100mm
– Add 75mm/100mm to above pad heights when 75mm or 100mm 4WD adapters are inserted