Lift King Portable EM-06 Full Platform Mid Rise Scissor Lift

The Lift King EM-06 full platform mid-rise scissor lift is a great choice for the tyre shop or service centre that wants to get a passenger car or SUV into the air as quickly as possible.
Also for those home garages where there's just not quite enough room for a 2-post hoist, the EM-06 can fold flat to a low 105mm and its fully portable. So it's both easily accessible and also out of the way when not in use.
Most full platform portable lifts only have a maximum lifting height of 600mm. The Lift King EM-06 raises your vehicle a full 1060mm, a very comfortable working height.
And there's no need to position movable arms under the vehicle lifting points. It's easier to line up and approach, just simply drive the vehicle over the approach ramps and across the lift so that the platform is in the middle. Place
the rubber support blocks under the vehicle's lifting points and you are ready to lift the car into the air.
The best way to position any vehicle on a scissor lift (with horizontal cylinders) is to allow some space (50mm-150mm) between the lifting surface of the lift and the vehicle's lifting points.
Quick set up time and an extended raised height makes the Lift King EM-06 a real winner for those shops that demand speed and quality in their lifting equipment.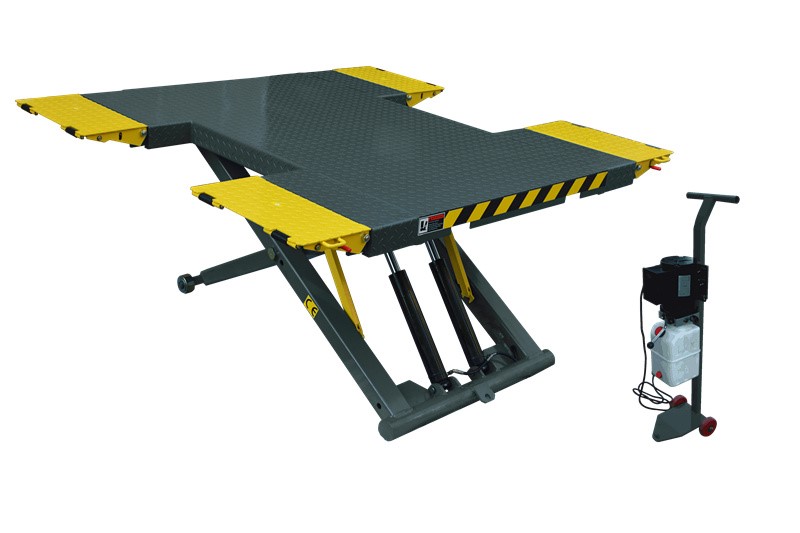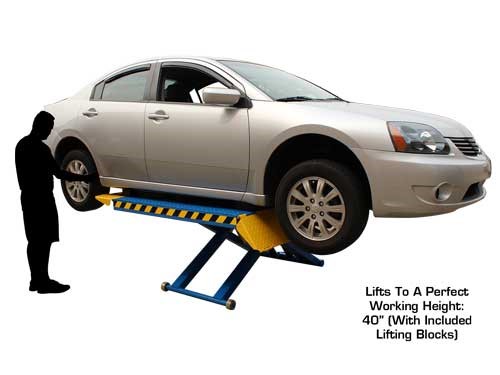 - Dual mechanical automatic safety locks release – no need for air
- Portable design – it's easy to move the unit with the power unit stand
- Movable drive–on ramps and extended platforms accommodate varying wheelbase vehicles
- 20 piece rubber adapter kit included
- Two heavy duty quality hydraulic cylinders
- Extra low minimum height and extra high maximum lift
- Lifting capacity: 2.8T
- Lifting height: 1060mm
- Minimum height: 105mm
- Lifting time: 23 seconds
- Runway length/Including ramps: 1460mm/2030mm
- Runway width/Overall width: 600mm/1960mm
- Gross weight: 587kg
- Packing dimensions: 2100 x 1960 x 180mm